Celebrity Hangouts in Los Angeles (Margherita Missoni)
Margherita Missoni Shares Her Top LA Spots Ahead of the Missoni For Target Launch
Next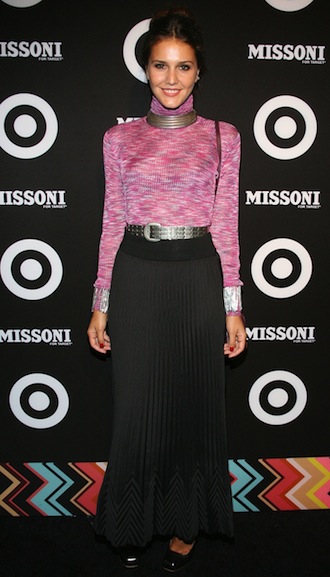 I still haven't decided how many of the 400-piece Missoni For Target collection I'm going to snag when it comes out tomorrow, so in the meantime, here's a fun little distraction to build excitement. When fashionista Margherita Missoni is in town for business and/or pleasure, here are a handful of spots she told me she likes to hang out at. Being surrounded by clothes for a living, it's natural that she loves vintage shopping, but Margherita is also into good food, the beach, and classic cocktails.
Ivy at the Shore (1535 Ocean Ave., Santa Monica, 310-393-3113) "When I am in LA, I like to head over to Santa Monica for dinner. It makes me feel like I'm on holiday. The Ivy has great décor — I love that they always have huge roses in bloom everywhere. I also love their chopped salad, and they have an outstanding wine list."
Eveleigh (8752 W. Sunset Blvd., West Hollywood, 424-239-1630) "It's a genuine bar. I like places that offer classic cocktails, using quality spirits and fresh fruit juices. It's great place to hang out with friends."
Beverly Hills Juice Bar (8382 Beverly Blvd., 323-655-8300) "I love the LA's "health craze" and the Beverly Hills Juice Bar is particularly delicious and healthy."
The Way We Wore Vintage (334 S. La Brea Ave., 323-937-0878) "This is one of my favorite vintage stores in LA. I was first introduced to The Way We Wore by a stylist friend, Christina Ehrlich, and since then I've never been disappointed shopping there. I always find great things, like Pauline Trigère pieces."

To find out where else Margherita Missoni likes to hang out,

La Scala Beverly Hills (434 N. Canon Dr. Beverly Hills, 310-275-0579) "La Scala is one of my favorite restaurants and hangouts. They use quality ingredients and their chopped salad is one of the best. Try to get a table outside."
Missoni Boutique (469 N. Rodeo Dr., Beverly Hills, 310-246-3060) "In my opinion, the Missoni boutique is worth visiting just for the architecture. The interior is protected and decorated by its woven exterior in the same way that a body is by a Missoni garment. The facade is meant to look like actual woven building. I also have a big part in the clothing selection for the boutique."
Resurrection (8008 Melrose Ave., 323-653-6960) "Resurrection has monthly shows that highlight specific designers. They have one of the best selections in the world — extremely inspirational and the best for research — but can be very expensive."
Prism Gallery (8746 W. Sunset Blvd., West Hollywood, 310-289-1301) "The best new art gallery. Opened only about a year ago, Prism has museum-quality shows like the Misericordia."
Source: Getty