Details on UMAMIcatessen in Los Angeles
Get the Full Scoop on Umami Burger's Upcoming Launch of UMAMIcatessen Inside Orpheum Theatre
Next
Are you ready for more Umami Burger in your life? That's what I thought. Founder and CEO Adam Fleischman just announced a new deli concept, UMAMIcatessen, opening inside The Orpheum Theatre in downtown in early 2012. "Part of the fun of the restaurant business is the opportunity to collaborate with other chefs. UMAMIcatessan is a playground for chefs and those who love to eat," Fleischman said in a press release. Sound like the kind of joint you can live in? While we wait for this exciting concept to come alive, get the full scoop on what UMAMIcatessen is going to be all about.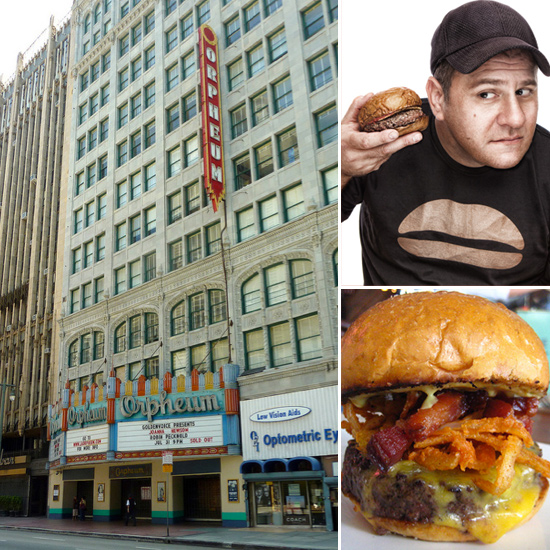 UMAMIcatessen is foremost a deli concept inspired by the international street bazaars and classic American delis.
It is also going to be an expanded Umami Burger, which means limited-edition burgers will now be put on the menu on a full-time basis. There will be lots more innovative chef-inspired, house-ground burgers.
The third component of UMAMIcatessen is its involvement with pork and more specifically The Next Iron Chef competitor Chris Cosentino, who will debut his first LA eatery, PIGG, featuring unusual hams, charcuteries, terrines, and salumi.
The deli component, inspired by kosher-style delis, will be called The Cure and will be Fleischman's take on traditional deli items like pastrami, chicken salad, lox, and chicken liver.
The Cure will also serve up unique sandwiches developed by notable chefs.
UMAMIcatessen is set to debut in early 2012 inside The Orpheum Theatre in downtown.
It will be located on the ground level and will combine a few different storefronts.
The space will have 170 seats, table-service dining, a full bar, and five kitchens.
Source: Flickr User Truus, Bob & Jan too! and AntMang