Dita Von Teese at The Roxy Los Angeles
Hit Up Dita's Favorite LA Eateries in Honor of Her Show at The Roxy
Next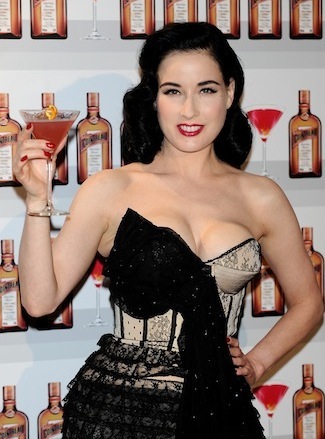 I have great news and not-so-great news. Which do you want first? OK, the great news is that Dita Von Teese is performing at The Roxy (9009 W. Sunset Blvd., West Hollywood, 310-278-9457) tonight and tomorrow. The not-so-great news is that all four shows are sold out. But don't give up hope before you scour Craigslist.
Even if you aren't able to score tickets to see the bombshell do her burlesque act, you can perhaps catch her at one of her favorite LA eateries, which she shared with me. Here's what she had to say:
Bulan Thai (4114 Santa Monica Blvd., 323-913-1488 and 7168 Melrose Ave., West Hollywood, 323-857-1882) "I'm not a really a vegetarian, but living in Paris part time often makes me crave healthy, meat-free foods. I love this place! I order the crispy 'fish' with green apple, Summer rolls, and the busaba pumpkin."
Cru (1521 Griffith Park Blvd., 323-667-155) "I'm not even a vegan, but I love this place!"
Cube Restaurant (615 N. La Brea Ave., 323-939-1148) "Always a wonderful menu, with great wines and cheeses."
Source: Getty