Dita Von Teese's Favorite LA Restaurants and Spas
6 Spots Dita Von Teese Dines and Gets Pampered
Next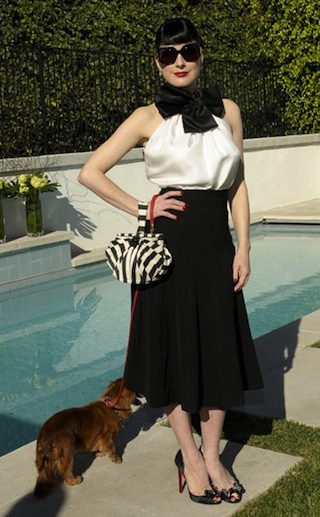 You know where she gets all those fabulous clothes; now it's time to find out where burlesque babe Dita Von Teese curbs her appetite and pampers herself when she's off stage. Dita often wears body-hugging corsets, so to keep her svelte figure, she likes to eat healthy. And when she's not loading up on veggies, she winds down at spas and gets classic, half-moon manicures. Check out these recs she recently shared with me.
Cru (1521 Griffith Park Blvd., 323-667-155) "I'm not even a vegan, but I love this place!"
Winsor Pilates (8204 Melrose Ave., 323-653-8767) "See Mari Winsor or Brendali for the best bum-workout you've ever had!"
Cube Restaurant (615 N. La Brea Ave., 323-939-1148) "Always a wonderful menu, with great wines and cheeses."
Wi Spa (2700 Wilshire Blvd., 213-487-2700) "I love traditional Korean spas for a good after-show scrub and massage, and this one is a favorite because it's open 24 hours (great jetlag cure!) and has a coed floor with a Korean restaurant, yoga classes, steam and sauna rooms of all kinds so you can bring friends, male or female, and enjoy the spa experience together."
Bulan Thai (4114 Santa Monica Blvd., 323-913-1488 and 7168 Melrose Ave., West Hollywood, 323-857-1882) "Again, I'm not a really a vegetarian, but living in Paris part-time often makes me crave healthy, meat-free foods. I love this place! I order the crispy 'fish' with green apple, Summer rolls and the busaba pumpkin."
Diamond Nails (7095 Hollywood Blvd., Ste 201, 323-969-8760) "Owner Lynn has done my nails since I first moved to Hollywood in 2001, and she now has a devoted following of my fans who go to her for variations on my ever-present classic half-moon manicure!"

Source: WireImage