Juice Bars in LA (Celebrity)
Beat the Heat With Two Celeb-Approved Juice Bars
Next
We all know and love Pressed Juicery, Liquid Juice Bar and Ritual Cleanse, but those aren't the only ways to stay quenched during this heatwave. Actresses Michelle Rodriguez and Rachel Bilson have both been exploring other juice bar options, so let's follow.
First Rachel Bilson was spotted hanging out with Hayden Christensen and Jon Hamm at Beverly Hills Juice (8382 Beverly Blvd., 323-655-8300) not too long ago. One thing to note about this place is that even though it has amazing juices and smoothies, it's tiny with nowhere to sit except a small bench in the front. Hence why the stars were sipping their drinks on the sidewalk. The menu is super extensive and can be overwhelming to choose from, but feel free to ask loyal customers in line what their favorites are.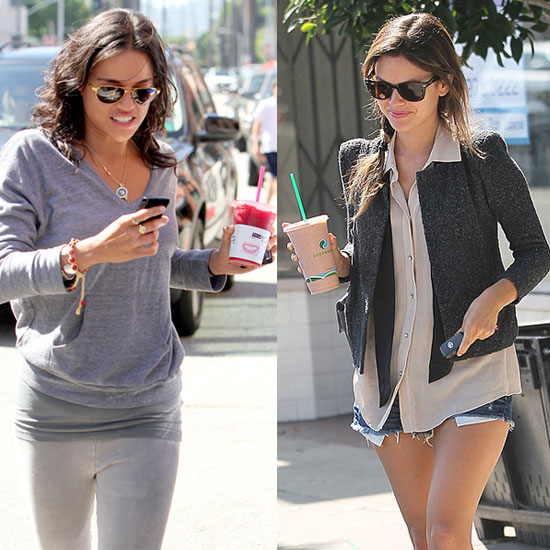 Michelle Rodriguez's juice bar of choice is Caffe Dell'arte (428 N. Bedford Dr., Beverly Hills, 310-271-6842); she was spotted coming out of there not too long ago with a bright pink smoothie that looks like it might have been a berry flavor. Caffe Dell'arte is not technically just a juice bar as it has coffee, pastries, and premade sandwiches, too. Like Beverly Hills Juice, the space is quaint and always busy, but it does have indoor and outdoor seating if you can grab it before someone else does.
Source: WENN.com