Kelly Cutrone Barnes & Noble Book Signing at The Grove in LA
Kelly Cutrone Talks LA Ahead of Tonight's Book Signing at The Grove
Next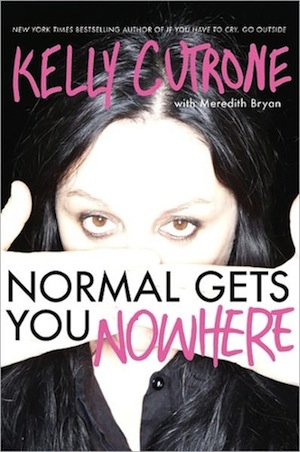 Kelly Cutrone isn't a name you forget even if you've only caught one episode of MTV's The City. The NYC publicist and founder of People's Revolution is one tough chick, and that's what makes her so rad. She's in town tonight signing copies of her second book Normal Gets You Nowhere — the follow up to If You Have to Cry Go Outside — at Barnes & Noble at The Grove (189 Grove Dr., Ste. K 30, 323-525-0270) at 7 p.m.
I got a chance to chat with Kelly ahead of tonight's event and we gabbed about her book as well as LA. Fun fact: Kelly lived here before she had her daughter in 2002 and she visits every five to six weeks. Read on then stop by to meet Kelly in person.
PopSugar LA: Tell us a little bit about your second book
Kelly Cutrone: The second book was a place to go where the first one left off. The basic overall premise is that I think we're as individual as our fingerprints. There's so much pressure to be part of the crowd, from the time you're a tween to even when you're an adult. The world really, really needs people who are individualized and expressive and creative and courageous, especially right now. I took a look at people like Rosa Parks, Joan of Arc, Eleanor Roosevelt, all these amazing people who decided I'm not going to be normal and as a result transformed themselves, their community, and the world. I mean imagine what would have happened if Amelia Earhart was too afraid to get on a plane because in those days women weren't supposed to do things like that. Everyone is pretty much a freak and they should let their freak flags fly and get on with it!
PSLA: What's one boutique you always hit up when you're in town?
KC: I always like to go to Fred Segal (8118 Melrose Ave., 323-651-1800) for denim; their denim bar is really good and easy. I like to check out the shoes, too. That's something I almost always do when I'm there. I don't like to go to any of the big department stores there.
To see what else Kelly and I chatted about, .
PSLA: What are some things you love about LA?
KC: First of all I have a lot of friends there. I love El Matador Beach; I love the coastline. I also love Silver Lake; I used to live in Silver Lake. The whole landscape of LA I love. I love the vintage and antique stores and the Mexican food for sure; it's unreal. I love West LA and Sunset Marquis Hotel (1200 Alta Loma Rd., 800-405-8203). I love eating at The Polo Lounge (9641 Sunset Blvd., Beverly Hills, 310-276-2251) and The Ivy (113 N. Robertson Blvd., 310-274-8303), and I love Robertson Boulevard like old school. I love Sunset Tower Hotel (8358 W. Sunset Blvd., 323-654-7100) and having dinner there. There's so much I like about LA. I love all the weird pockets like Koreatown and Olvera Street and going up Topanga — I used to live there for a while.
PSLA: What's your favorite Mexican joint?
KC: I really like Lucy's El Adobe (5536 Melrose Ave., 323-462-9421) and I like a place called Alegria (3510 Sunset Blvd., 323-913-1422) in a strip mall in Silver Lake; they have really amazing juices there.