LL Cool J's Wife Simone Launches Jewelry Line
LL Cool J's Wife Launches Jewelry Line at Bloomie's
Next
LL Cool J can sing a sexy tune, but his wife of 16 years, Simone I. Smith — that's her posing with LL and the DJ, below left — has talent, too. On top of being Mrs. LL Cool J, she's also a fabulous jewelry designer. Along with her famous hubby and friends like Joy Bryant and Kelly Rowland, she recently celebrated the launch of Simone I. Smith at Bloomingdale's in Century City (10250 Santa Monica Blvd., 310-772-2100), where you can now score the collection of classic hoops and exotic cuff bracelets.
"LA women will love my fashion-forward designs, details, and shapes," she says. "It was very important for me to offer several sizes, so that there is something for everyone. My earrings are light and easy to wear." Simone, who is a cancer survivor, also designs crystal lollipop necklaces that helps raise funds for the American Cancer Society.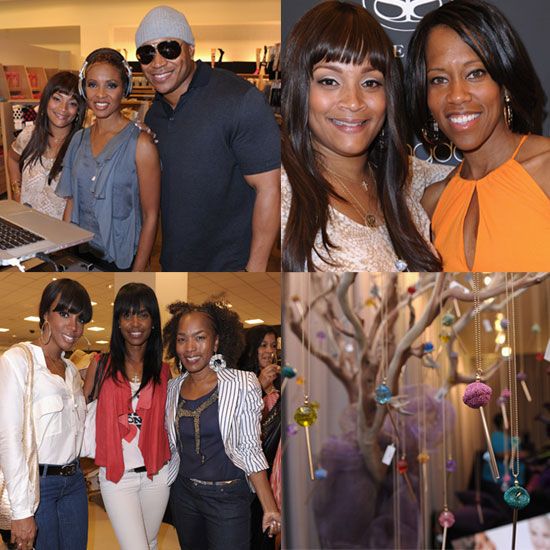 As for where Simone likes to hang when she's not busy with her new line? "AQ Nail Spa (11239 Ventura Blvd., Ste. 107, Studio City, 818-985-5159); my girl Jenny gives the best pedicures and foot massages on the planet. Mastro's Steakhouse (246 N. Canon Dr., Beverly Hills, 310-888-8782) in Beverly Hills; they have the best side orders and my favorite is the lobster mashed potatoes and the creamed corn. And the The Americana mall (889 Americana Way, Glendale, 818-637-8982). I love the shopping, dancing waterfalls to Frank Sinatra music, and the movie theater."
Source: Getty