Le Posh Spa Salon and Lounge in Los Angeles
Just Opened: Le Posh Meshes Health and Beauty With Fun
Next
I love me a good deal, but first, there's one important thing we need to discuss about new "salon spa lounge" Le Posh (7551 W Sunset Blvd., 323-851-5558). Lounge is the operative word, translating into DJ-spun beats and golden bubbly along with your pedicure and haircut. Sounds like a second home.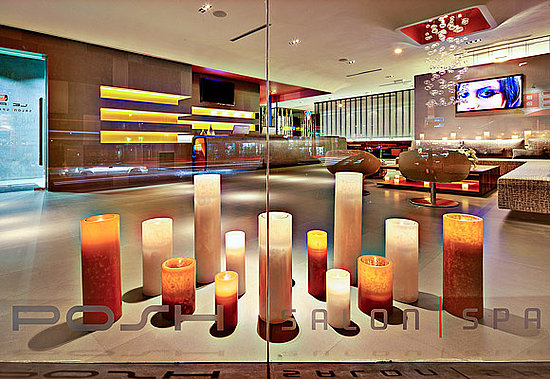 Spa treatments include hot stone massages and red carpet detox wraps, while the swanky salon offers deep conditioning, coloring, eyelash tinting, and birch scrub manicures and pedicures. Should you not be feeling super social one day, escape to Le Posh's VIP suite for a solo hair and nail session. But wait, Le Posh has one more trick up its sleeve — it's simultaneously a yoga studio with group hatha, power, vinyasa, blu, and rejuvenation classes, as well as private sessions.
You think it would be hard to top all that poshness, but here are some great opening specials. Right now, you can get a one-hour European facial for $20 off ($145, originally $165) and a sleek blow-dry for $35, same price as Drybar. Is there anything Le Posh can't do? If it were a man, I'd date it. Check out some posh pics below and book your appointment now.