A Review of the Tracy Anderson Method in Studio City
Gettin' Down and Sweaty at Tracy Anderson Method
Next
Let me just start by admitting that I'm no workout-a-holic. When I played basketball in middle school, I was always the one waiting for my teammates at the other end of the court. I recently took up boxing and was pretty good at it, but the 8-year-old ballet dancer in me was yearning for something a bit more graceful. After seeing the fun video of Tracy Anderson and Nicole Richie dancing together, I decided I wanted to try it out for myself.
So last Friday night, I took my first Tracy Anderson metamorphosis class at her studio in Studio City (12345 Ventura Blvd. Ste. L, Studio City, 818-762-3133) and let me tell you, I've never sweat so profusely. Molly Sims — just one of a laundry list of loyal clients that includes Nicole Richie, Gisele Bundchen, Kim Kardashian, Kirsten Dunst, and Jake Gyllenhaal — had just finished her workout when I came in.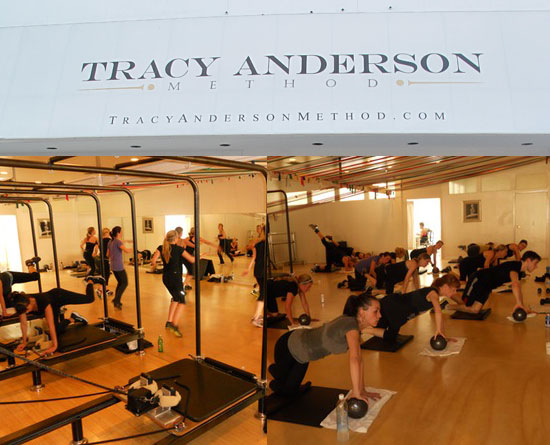 The one-hour session, set in a warm studio, started with some simple stretching then moved into a more intense muscle training using three-pound weights, a light ball, and a mat. The leg moves weren't hard to do, but the repetition started to tire my muscles after a while. My favorite part was the cardio dancing that came after — it's a mix of ballet and modern dance all to the tune of popular jams like Jennifer Lopez's "On the Floor" and Christina Aguilera's "Fighter." It was like being at a dance party where you can let loose without fear of looking silly. A few moves borrowed from ballet took me back to my tutu-wearing days. And like my basketball-playing era, I did have to take a few mini breaks to catch my breath, but I kept up pretty well overall.
The instructor Erin, a professionally trained dancer like every other teacher here, was easy to follow, and the moves aren't too complicated, especially if you've ever learned choreography before. The membership cost is steep — it ranges from $300 to $650 a month, and you must sign a six or 12-month contract — and unfortunately there is no drop-in option, but considering you can feel the results even in the first few minutes, it might just be worth every Benjamin.