Top Chef Antonia Lofaso's Favorite LA Restaurants
Top Chef Tour Stops in LA — Antonia Lofaso's 3 Favorite Local Restaurants
Next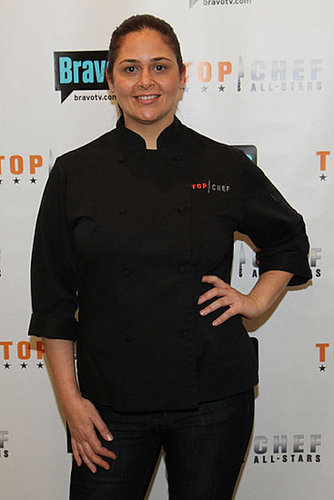 Top Chef: The Tour has been on the go since April and this weekend it's making a stop in LA, with local chefs Antonia Lofaso and Jamie Lauren going head to head at the Hollywood and Highland Center. Check out this awesome photo of the rival chefs getting ready for battle.
Chef Antonia of Top Chef season four is currently a private executive chef to a few A-list celebs and a full-time mom. When she's not busy chopping away, here are three restaurants she told me she loves to eat at and what she orders from each.
Bouchon (235 N. Canon Dr., Beverly Hills, 310-271-9910) "It's the perfect French bistro for late-night raw bar, great wine by the glass, and they have Delirium on tap! Beautiful black lentils with confit duck and their croque madame is the best in California."
Daikokuya (327 E. 1st St., 213-626-1680) Perfect Japanese ramen, downtown LA, worth the wait. Beef gyoza that makes you want to be Japanese and ramen that makes you want to be a noodle!"
Gjelina (1429 Abbot Kinney Blvd., Venice, 310-450-1429) "My favorite is the BLT with crispy egg on Italian bread. It looks like the sandwich from the movie Spanglish with Adam Sandler where he plays the chef. Ah, it's so good, as is their salted caramel pot de creme!"