Want a Celeb With That Salad? Try One of These Cafes
Next
Paparazzi can be annoying, but they're helpful for finding out where celebrities head for lunch. Here are five trendy cafes frequented by Hollywood's hottest talents. Pop by any day of the week to potentially nosh alongside your favorite stars. Disclaimer: FreshGuide cannot guarantee a celeb run-in, only delicious eats!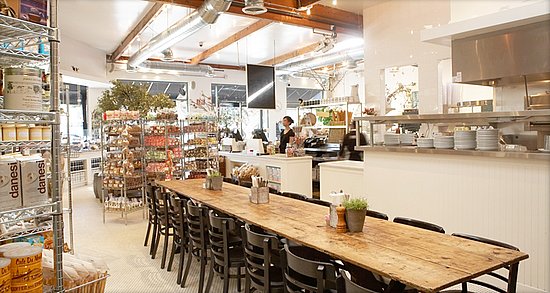 Joan's on Third (8350 West Third St., 323-655-2285). This cute cafe (pictured above), a favorite of Kate Bosworth and Alexander Skarsgard, is close to Robertson Blvd., so stop in after a shopping excursion for a delicious Southwest salad or a fresh mozzarella, tomato, and basil sandwich.
La Conversation (638 N. Doheny Dr., 310-858-0950): Actress Rebecca Gayheart was recently spotted here grabbing lunch with a friend. But even more reason to go, La Conversation boasts all fresh ingredients — it doesn't even own a microwave. Every dish is made to order, and there's lots of fresh baked goods to excite your sweet tooth.
Kings Road Cafe (8361 Beverly Blvd., 323-655-9044): With locations in West Hollywood and Studio City, Kings Road is quickly becoming the new hot spot for breakfast and lunch. Chances are you'll be sitting near the next famous writer or actor while devouring your breakfast quesadilla with fresh guacamole or ahi tuna panini.
Cafe Audrey (6701-B Hollywood Blvd., 323-465-5359): As the name suggests, this quaint spot pays tribute to classic Hollywood, Audrey Hepburn in particular. Grab gourmet coffee, an almond croissant, perhaps a garlic chicken Caesar sandwich, and allow the eclectic black and white decor to transport you to the glamorous '50s.
Aroma Cafe (7373 W. Sunset Blvd., 323-850-8120): This place — a house transformed into a cafe over 15 years ago — tends to get crowded fast, so they must be doing something right. It's well worth the wait for that brie and apple panini, kobe bleu burger, wild rice and tofu salad . . . and the potential Scott Wolf sighting!
Source: Joan's on Third