Where to Get Large Ice Cubes in LA
Trendspotting: Where to Get a Fat Ice Cube in Your Cocktail
Next
If you're of the mindset that bigger is better, then you're definitely into the fat ice cube trend. It's usually a two-inch square cube, perfectly symmetrical, just the right size for your cocktail glass, and doesn't melt as fast as regular ice. Névé Ice, founded by Stark Bar's barsmith Michel Dozois, is one of the local companies that produces oversize ice cubes, and here's where you can find the trend.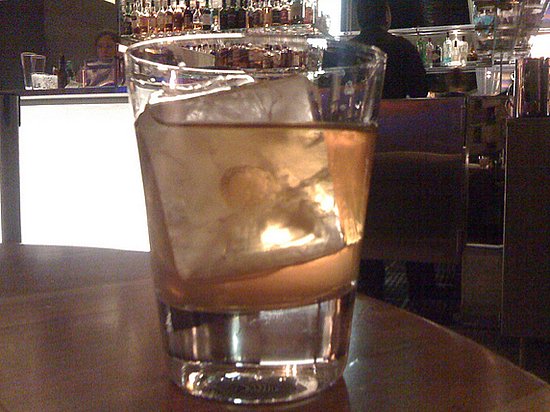 Library Bar at Hollywood Roosevelt (7000 Hollywood Blvd., 323-466-7000) The cocktails here are so much cooler when they're mingling with a large ice cube. It allows for the ingredients to stay fresh and not get drowned in water.
Bottega Louie (700 S. Grand Ave., 213-802-1470) Besides delectable pizza, Bottega Louie also captivates with huge ice cubes in sip-worthy cocktails like applejack, west Indian punch, and Peruvian sour.
Seven Grand (515 W. 7th St., 2nd Fl, 213-614-0737) The sleek, studious bar in downtown is known for its traditional pours like whiskey and bourbon but now with a modern twist thanks to Névé ice.
Elements Kitchen (37 S. El Molino Ave., Pasadena, 626-440-0044) Alongside a delicious lunch and dinner menu, you can order pre-Prohibition cocktails with fresh juices and house-made syrups poured over a huge ice cube. Say "spin the bottle" if you want the bartender to make you a surprise drink.
Bar Keeper (3910 W. Sunset Blvd., Silver Lake, 323-669-1675) If you want to bring huge ice cubes into your bar at home, Bar Keeper is the place to go. It also stocks barware, glassware, mixers.
Source: Flickr User theres no way home