Where to Get Savory Cocktails in Los Angeles
Trendspotting: Where to Sip Savory Cocktails
Next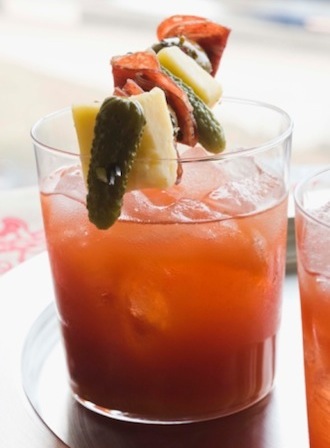 The savory cocktail trend has been picking up momentum, and I presume it will continue to since the National Restaurant Association just predicted it as a cocktail trend for 2011. I, for one, am really happy about this. While drinks that taste like dessert are yummy, I've always found that my savory side is a tad stronger than the sweet; whenever they have a food fight, savory prevails. (Except if the sweet is cinnamon . . . but I digress.) If you're already ahead of the trend or you want to experience it, here are four cool spots to sip on culinary cocktails with fresh ingredients.
Library Bar's (630 W. 6th St., Ste 116-A, 213-614-0053) Umami Manhattan with mushroom-infused bourbon and Bloody Mary with basil are two delicious ways to dabble in the savory cocktail trend.
Go to The Varnish (118 E. 6th St., 213-622-9999) in downtown and ask for a Bartender's Choice savory cocktail. Prices aren't cheap, but drinks are strong and expert-made, so your wallet will forgive you.
Point08's (95 E. Green St., Pasadena, 626-792-4441) bartenders are expert mixologists, so order their signature Whiskeyboy (house spirits unoaked barley, apple schnapps, fresh lemon, rosemary) with confidence. Be sure to try one of their seasonal cocktails, too.
Once you've gotten your master's degree in culinary cocktails, don't skip the Barbacoa (tequila, chipotle, bell pepper, ginger, and hickory smoked jerky) at Rivera (1050 S. Flower St., Ste 102, 213-749-1460). It tastes way better than it sounds.
Source: Getty