Where The Spare Room's Barsmith Shops For Fresh Ingredients
The Spare Room's Naomi Schimek on Where to Shop For Cocktail Ingredients
Next
Charlotte Ronson recently threw a party to celebrate I Heart Ronson's Summer collection with pals Nicole Richie, Nicky Hilton, and Ashlee Simpson. Her venue of choice? The Spare Room (7000 Hollywood Blvd., 323-769-7296), which opened earlier this year inside Hollywood Roosevelt. The crew bowled and sipped on Svedka Clementine vodka as well as other specialty cocktails created by The Spare Room's kick-ass barsmith Naomi Schimek.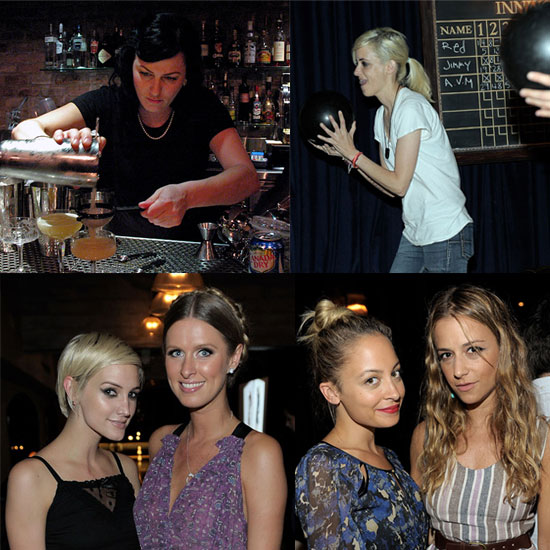 So where does Naomi go to get the freshest ingredients for her concoctions? There's a few spots, one of them being the sidewalk, literally. "If a branch with fruit on it is hanging over a public sidewalk, by law you may pluck it and bring it home. Some of my best liqueurs are made by walking around my neighborhood and making the most of my local resources," she said.
Naomi also shared how to re-create the popular Duke For a Day cocktail at home; just mix 75 ounces of lavender syrup, .75 of lemon juice, 2 ounces of cognac, shake and strain, then serve up in a coupe, and garnish with a fresh sprig of lavender. Have a cocktail get-together at your place by visiting the following spots, or hit up The Spare Room to have Naomi make one for you.
"Hollywood Farmers' Market (Ivar and Selma Ave.) on Sunday Morning for all fruits, vegetables, and seedlings. I've always bought my lavender from Balboa Brothers there and we use it in the Duke For a Day cocktail at The Spare Room."
India Sweets and Spices (3126 Los Feliz Blvd., 323-345-0360) "I lived on the Westside for 10 years and always went to the one on Venice Blvd. Now that I live in Atwater Village I'm fortunate that there is a location there as well. It is invaluable to me as a source for seeds and spices to be made into tinctures and bitters. Don't be daunted by the Hindu language on the labels. Google up an Indian glossary and start shopping."
Little Armenia "All the little Eastern European and Armenian shops in Glendale are a great resource for hydrosols and odd eclectic items like rose petal preserves. That's where we get our dried figs for the Figgy Smalls, and the almonds for the orgeat we make in house."
Source: WireImage and Thirsty in LA